Professional Development
SAM Labs Professional Development cultivates educators' knowledge, skills and mindsets.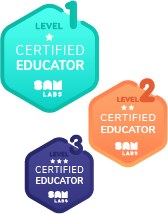 It prepares all teachers to lead STEAM and Coding initiatives in your classrooms, clubs, and makerspaces.
Our courses aim to expand your toolbox and deepen your knowledge, providing scaffolded instruction. You will help inspire your learners to problem-solve, collaborate, and persevere.
To support educators during this COVID-19 period, our PD training and certification will be completely free.
Plus, the first 100 Educators to become Level 2 Certified will receive 35% off on one order on kits/bundles — offer valid for one year.
Become a SAM Labs Certified Educator today.
---
Educator PD Course Menu
Our course is divided into four sessions, each session is two hours.



Level 1 Courses
As a result of this session, attendees will be able to:

1.1 Getting Started with SAM Labs

Articulate the four pillars of the SAM Labs solution, our mission and vision and the main benefits.
Access our digital curriculum and select appropriate lessons.
Lead hands-on activities with students, linked to the curriculum.
Reflect on ways to implement SAM Labs in their classroom.

1.2 Purpose and Pedagogy

Articulate, in their own words, the importance of preparing students for future pursuits in STEAM/Coding.
Define computational thinking as a set of concepts and skills.
Recognize and reiterate pedagogy that develops computational thinking and key subject knowledge.
Articulate, for their own context, the pedagogical benefits of SAM Labs curriculum design.



Level 2 Courses
As a result of this session, attendees will be able to:
2.1 Hands-on, Minds-on Teaching with SAM Labs

Identify how key subject knowledge is developed and deepened through the use of SAM Labs
Identify key functions of SAM Labs hardware and software blocks
Instruct upon common constructions, linked to the curriculum.

2.2 Implementing SAM Labs in Context

Reflect on and plan for students learning needs
Reflect on and plan for potential pitfalls to implementation
Reflect on and plan for an appropriate sequence of learning
Best Classroom Management practices
| | | |
| --- | --- | --- |
| | Level 3 Courses | More information in Fall/Winter 2020. |
---
Upcoming Educators PD Training
Be sure to download Zoom and SAM Space App first. Registrations will be capped at 30 participants for each webinar.
Please remember that in order to attend any of the Level 2 PD offerings, you must attend Level 1.1 and 1.2 first.
Upon registration, you should receive an email confirmation containing your unique link to join the webinar from Zoom. If you do not receive this confirmation, please email us at professional.development@samlabs.com.
May schedule
---
---
---
---
June schedule
---
---
---
---
---
---
---
---
---
---
---
---
---
---
---
---
---
---