Customizable Professional Development Package For Educators, Schools and Districts
Launching Fall 2020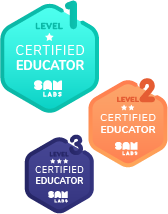 We are excited to announce the release of a brand new, fully customizable STEAM and Coding Professional Development package for educators, schools and districts.
Choose your pedagogy track, in-person or virtual delivery and from a variety of implementation options that put you in charge of your pace, budget and learning objectives.
The STEAM and Coding Professional Development Package includes these benefits:
An affordable, cost-effective way to deepen knowledge and understanding of STEAM and coding pedagogy

The choice to choose how many sessions and days depending on your staffs'
schedules
The opportunity to choose your focus, whether it be STEAM, Coding
or a combination of both
A variety of delivery digital options, including self-paced individual
on-demand lessons, or school or district live webinars for larger groups

On-site training for schools and districts for in-person delivery of professional development lessons

Choose to buy

or

rent SAM Labs kits for your training. Love your kits?
You can purchase them after your rental term
Receive a SAM Labs Certification at the end of your course and badges
for each level of certification
Become a certified member of the SAM Squad community, and gain access
to other certified members, SAM Labs Education Consultants, exclusive SAM Labs discounts and more

Sign up now to get on the waitlist.