SAM Labs 2021 PPS Maker Challenge Competition
STEAM & Coding + Creative Design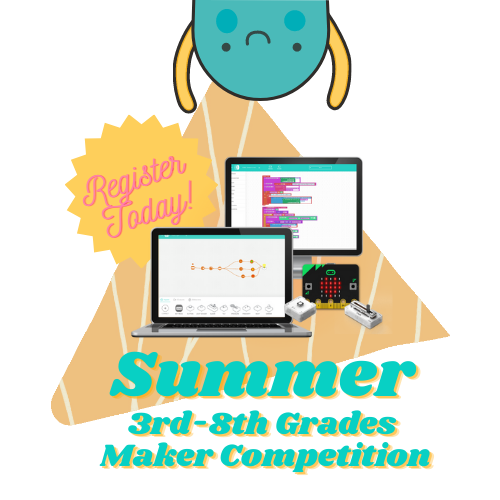 Do you have a 3rd-8th grade student interested in creating, coding, and problem-solving?
Join SAM Labs and Portland Public Schools for a maker challenge where students learn foundational coding skills, push the limits of creativity, and solve real world challenges. At the end, students present their prototype for the chance to win cash prizes!
No prior coding experience is necessary. Students must be enrolled in Portland Public Schools in order to participate.
What dates are available?
There will be one Maker Competition at each site. For 3rd-5th Grades, there are two different week-long options:
Week 1: August 2nd-6th
(Deadline to register: Friday, July 30th) Spots still available!
Week 2: August 9th-13th
(Deadline to register: Friday, July 30th) Registration Full
For 6th-8th Grades, there is only one, two-week option:
6th-8th Grade: August 2nd-13th
(Deadline to register: Friday, July 30th) Spots still available!
Each day starts at 9:00 am and ends at 3:00 pm, with a lunch break and brain break built in.
What school sites are available?
We will be hosting the competition at 2 sites across PPS, including:
Lane Middle School (6-8 students)
Cesar Chavez (3-5 studnets)
Cesar Chavez has only 20 spots per week. Lane Middle School has 170 spots for the 2-week session. We are assigning sites based on a first-come, first-served basis until the roster is full.
What does my child need to bring?
We definitely encourage to bring their creative thinking and growth mindsets to the competition!
In terms of materials, because we are using STEAM and Coding tools, students will need to bring their school-issued Chromebooks to access our coding platform, SAM Studio.
We will provide all other planning, building and maker materials for the project.
Transportation
Parent Drop-off/Pick-up: Parents or guardians can drop off and pick up students at assigned sites. Breakfast begins at 9:00 am and our day ends at 3:00 pm. Please arrive on time to maximize the learning experience. Parents/Guardians will also need to confirm that there will be someone to pick up their child by 3:15 pm daily.
Walking: Students are allowed to walk home if you indicate your permission while registering your child. You must sign a Release of Liability Waiver, not holding SAM Labs or PPS responsible after your child leaves campus.
Note: Transportation services will not be provided to or from Summer Camp. Please make sure to make arrangements for your child.
If your child has a 504 or IEP on file at PPS, please reach out to us as we may be able provide transportation accommodations.
What food options are available?
Free breakfast and lunch will be provided to all students. Students can also bring lunch and snacks from home to eat during designated break times.
Please note that for health and safety concerns, students are not allowed to share food with others.
Prizes
Students have the chance to compete for Visa Gift Cards at the end of the week presenting their working prototype to the group.
1st Place: $100 Gift Card per student
2nd Place: $75 Gift Card per student
3rd Place: $50 Gift Card per student
Students will be judged by the Instructor and Student Guide based on criteria set at the beginning of the competition and a set rubric and how well the design solves the problem posed in the challenge. Students will have access to the rubric to understand expectations as they work through the Design Process.
Health and Safety
In compliance with the county and PPS policies, masks will be required when participating in the program.
Ready to sign up?
We are hard at work to ensure this will be a fantastic and fun experience for your children! Click the button below to register your student today!
Need some help?
Be sure to check back here as we will continue to update information as it becomes available. Click the button below to contact us with your inquiries.